The Prose
Books set in post-apocalyptic settings usually have an ominous feeling about them. You will start to get that vibe from the very first line. The Handmaid's Tale (THT) wasn't different in that regard.

Consider the following lines and you will see what I mean:
"We slept in what had once been the gymnasium.
...for the games that were formerly played there
...the hoops for the basketball nets were still in place, though the nets were gone."
If you were to ask me to name one thing that I liked and disliked about the book, it would be the same:
It horrified me.
There is a certain sensuality and ripeness in the prose that on certain occasions became almost obscene to read. Two examples of the latter kind can be found below:
The stains on the mattress. Like dried flower petals. Not recent. Old love...

They touch with their eyes instead and I move my hips a little, feeling the full red skirt sway around me.
There were other examples like the ones mentioned above. I think the book was already amazing without them and they weren't really needed. On the other hand, the instances where the succulence of the prose worked for me were beautiful. Look at the greetings that Offred and Oflglen use, for instance:
"Blessed be the fruit..."

"May the Lord open..."
There is something about them that will make you downright uncomfortable. Then, there's a scene where Offred and the Commander are playing Scrabble. To Offred, spelling is a novelty and each word a tasty morsel:
We play two games. Larynx, I spell. Valance, Quince. Zygote. I hold the glossy counters with their smooth edges, finger the letters. The feeling is voluptuous. This is freedom, an eyeblink of it. Limp, I spell. Gorge. What a luxury.
Following are some of my favorite quotes:
Image from here
The Symbolism
The Color Red


The book is littered with all kinds of symbols yet one is obvious and is constantly highlighted. The color red can be found in the Handmaids' dress, as well as, other places. For instance,
A Sister dripped in blood.

Hope is rising in me, like sap in a tree. Blood in a wound. We have made an opening,
The Relevance Today
There are certain themes that make this book highly relevant even after three decades. Let us look at some of them:
Hoarding of Knowledge (Religious and Otherwise)
If the masses are denied knowledge, a society hastens toward its decline. It has long been the tactic of rulers to divert the attention of the public with some distraction. The Ancient Roman emperors did it with gladiator fights. Nazi Germany did it by motivating people to snark on each other. Today's politicians do it with sports' tournaments. In THT, we find Nazi style has been adopted. People are too busy finding out what their neighbors are up to, which prevents them from focusing on what is going on around them.
Another way of making the public stay in an uneven footing is by allowing a privileged few access to religious knowledge. Regardless of the religion in question, a clique forms and the members of that esoteric group are the only ones who know what god requires from them. The rest of us are left floundering. Unable to verify the veracity of the claims being made in the name of a deity, we have no choice but to either denounce our faith or join the flock.
This
Salon
article raises some interesting points on the underlying themes in THT. It also discusses the next topic that I have in mind viz...
Women's Position in Society
I won't get into the things that will be obvious to most readers, such as women considered assets and being denied reproductive rights etc. It happens in the book, which was published in 1986. The fact that it is still being talked about today makes anything I say redundant. Let us look at some other interesting things that stood out to me:
Women's efforts and sacrifices being undermined constantly
Consider the scene where Janine is about to give birth. The instruments and methods being used are outdated. One of them, the birthing stool, can seat two persons, instead of one. To me, it felt like the construction of the stool had two purposes or one depending on how you choose to see it:
The Wives being reminded of their inability to produce children by having to sit on the stool during the delivery and be humiliated.
The Handmaids being reminded that all the sacrifice that they went through didn't change anything. Their seat is also lower than the Wives', which pretty much sealed the deal for me.
Getting Used to Something Equated with Things Getting Better
For the generations that come after, Aunt Lydia said, it will be so much better. The women will live in harmony together, all in one family; you will be like daughters to them, and when the population level is up to scratch again we'll no longer have to transfer you from one house to another because there will be enough to go round.
This is the sole scrap of comfort that the "Aunt" had to offer to the Handmaids she was training. It reminds me of something I read on Facebook:
Things don't become right just because they have been going on for years. Telling us that our daughters would accept the situation because they didn't know any better does not cut it anymore. Saying that things could always be worse shouldn't be enough.
It isn't just feminism that this thought process can influence. The current events being recorded will soon become part of textbooks. Right now, the people who are alive in this time can differentiate between what happened and what was written down. For the future generations, the textbook version would become history.
Racism/Discrimination
Racism is very much a part of our society even today, as is discrimination. While the three main groups of women, Marthas, Handmaids, and Wives weren't from different races, they might as well have been.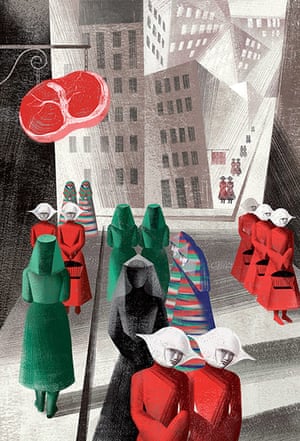 Provided that this comes to us via Offred, here is a look at what the Wives thought of the Handmaids:
Will Serena Joy talk about me like that, if I do as she wants?Agreed to it right away, really she didn't care, anything with two legs and a good you-know-what was fine with her. They aren't squeamish, they don't have the same feelings we do. And the rest of them leaning forward in their chairs, My dear, all horror and prurience. How could she? Where? When?
You can see the discrimination in the naming of all the servants, Marthas, and the Handmaids being named after the Commander they are currently serving. Offred and Ofglen aren't their real names.
One of the throwaway lines from the book mentions that at first, the people thought that Islamic terrorists had taken over the government. I was surprised to find that reference in THT. When I look at the phobia that is still a part of today's society and the misconceptions surrounding my religion, I can see that this isn't something new.
Women Subjugating Women
If there is one thing that we need to stop doing, it is demeaning other women. You can see evidence of it in the book and you can see this happen in the real world. The "historical notes given at the end of the book had this to say about the "Aunts":
...the best and most cost-effective way to control women for reproductive and other purposes was through women themselves. For this there were many historical precedents; in fact, no empire imposed by force or otherwise has ever been without this feature: control of the indigenous by members of their own group.
Our attitude towards each other is largely responsible for how the rest of the world treats us. This was as relevant 30 years ago as it as today!

The excerpt below combines all of it: the gender discrimination, the generational brainwashing, the knowledge hoarding etc.

Are they old enough to remember anything of the time before, playing baseball, in jeans and sneakers, riding their bicycles? Reading books, all by themselves? Even though some of them are no more than fourteen – Start them soon is the policy, there's not a moment to be lost – still they'll remember. And the ones after them will, for three or four or five years; but after that they won't. They'll always have been in white, in groups of girls; they'll always have been silent.
Other Thoughts
Moira
I am at odds while trying to see if I like Moira as a character or not. Offred is one of the wimpiest heroines I have read about, so she wasn't the one who made an impression on me. It was Moira who was intriguing. For instance, look at this exchange between them:
Women can't hold property any more, she said. It's a new law. Turned on the TV today?

No, I said.

It's on there, she said. All over the place. She was not stunned, the way I was. In some strange way she was gleeful, as if this was what she'd been expecting for some time and now she'd been proven right. She even looked more energetic, more determined.
After reading this, I started thinking maybe she was feeling vindicated. Did that mean she hated men? I wasn't so sure about that when I read how she escaped and was grateful to the people, including men, who helped her escape.
We see another positive side of hers in the way she deals with a shell-shocked Janine. And finally, we see her giving up and resigning herself to a life of prostitution. Her character changed over time while Offred spends the whole book without evolving in any way.
Issues I Spotted
The book wasn't perfect and had some issues, including the fact that the main character doesn't really change over the course of the story.

I also found the ending somewhat a letdown. After investing so much of my emotion into reading what went on with Offred, I think I deserved to know what happened to her.

There was a scene where Japanese tourists encounter Offred and Ofglen. It is made clear that the Japanese do not have the same custom. However, if radiation sickness and infertility are making Offred's people take such desperate measures, why isn't the rest of world doing the same?
Allusions and Similarities
When Offred is talking/praying to God, her words are:
I wish You'd answer. I feel so alone. All alone by the telephone. Except I can't use the telephone. And if I could, who could I call? Oh God. It's no joke. Oh God oh God. How can I keep on living?
I felt as if the author was alluding to the song, What If God Were One of Us. It is a favorite of mine. You can listen to it
here
.
The Underground Femaleroad reminded me of the people who used to help Black slaves back in the day when slavery was legal.
The Salvaging scene that ends with the Handmaids mobbing and mauling a man who supposedly raped a pregnant Handmaid put me in mind of a gruesome incident that took place in my country recently. Since I don't believe in promoting violence, I won't include the link here. I will include the link to a piece that I wrote on the event though. Read it
here
.